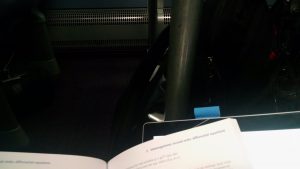 If you've been reading my blog for a while you'll know that I start off with good intentions for my OU modules and then finding myself rushing TMAs, skipping a lot of the text and generally revising the day before the exam. While I've got away with this so far, it is getting harder to get the scores I want and I knew going into MST210 that my focus and time management would need to improve to take this seriously.
One of the things I took into account when doing this module was the amount of time I spend commuting. Working in London I have a train journey of between 30 mins and 1 hour 15 (depending on whether I travel in rush hour or not) and a tube journey of 27 minutes (fortunately on a single line) in each direction, so at a minimum I have 2 hours on public transport in four good half hour blocks. That's 10 hours study time a week, which should be sufficient1.
I'm getting a head start on MST210 as with previous modules I've fallen behind due to work commitments and I don't want to impact my family time playing catch up as I did last year. I've done one full week and completed book A unit 1. This is on par with the pace that the study calendar sets2 and I have made notes on all the examples and done every single exercise in the unit.
Keeping focus has been really hard. It's really easy when you're on a train at 6.30am to sip coffee and stare out of the window as you wake up gradually. It's so easy when you get on a train or tube and have to stand to just leave my surface and book in my rucksac and play Peak on my phone. It takes no effort after a day at work to grab a gin and tonic and read my Kindle. What is hard is having that focus and discipline to make every minute count – every minute I spend geting ahead now is a minute I can spend having fun with my family rather than having to isolate myself to rush that TMA. It seems like a no-brainer, but humans do tend to make short-term decisions at the expense of long-term success . One of the best things we can do to overcome how our brains work is have a routine and stick to it3.
This is what I've been doing – every morning and evening, I've forced myself to get my MST210 books out, not only when I'm actually on the train/tube, but also while waiting for them – I keep them in my hands while changing trains; if I don't put them away, then there isn't the effort to get them out again. If I need to sit on the floor of a train so I can write, then that's what I do. This focus has taken a lot of effort and I'm not sure how long it will be before it's automatic, nor indeed what will happen when my routine changes due to business travel.
However, backed by the science that our brains are dumb enough to make bad short term decisions even if we are aware of the long term consequences, I know that the focus I need is entirely in my own control and if I stick to the routine long enough, it will become the go-to task for my selfish limbic system.