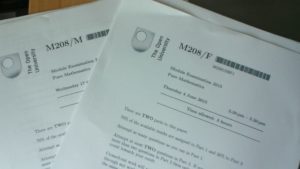 Last week I took the exam for the level 2 Open University module M208 (Pure Mathematics).  Just like last year with MS221, I'd not studied as much as I wanted, and had given myself two clear days before the exam to "cram" as much as possible and hope for the best.  I want to make it very clear that this is a really poor strategy for any student wanting to revise and please with you not to copy this method!This year, I didn't have as many past papers as I'd like – for MST121 and MS221 my tutor had given us several past papers which we worked through as part of the tutorials, and extra questions from other papers to go through.  This year I was not so lucky and discovered that my lack of preparation meant that the night before my intense revision days I had only the sample paper to work from.  A quick jump to the M208 forums and I found a link to the OU shop  where I could buy (and more importantly download!) the previous 5 years' papers.  There are no official solutions for the M208 past papers but helpfully, people power resulted in the compilation and discussion of past answers enough to produce a sample set that you can mark your own answers from.  Armed with these printouts I made a hot cup of tea, sat down with my handbook and a notepad and began.
Revision day 1 I started with the oldest past paper I had for M208 – 2012.  I did this completely cold – without trying to revise and hoping I could remember the methods from the TMAs.  After 2 and a half hours, I had run out of answers to put and, since this wasn't an exam, I stopped and started marking.  This first paper I got 52%1.  While this is significantly lower than I'd have liked, it was a passing mark and instantly relieved the pressure.
After a quick break for lunch, I annotated the handbook2 with a few examples of some of the things I got wrong and started the second paper (2013).  I finished again with 30 mins to spare and this time got a 74%, which I was much happier with.
Another break, some more annotations and I was onto paper 3, 2014, and the last of the day.  I'd just finished this before I had to pick up my daughter from nursery.  That evening, while trying to add more annotations to the handbook (after a less than satisfactory 67%), I had a fun time trying to convince my 4 year old that while it was okay for Mummy to write in this book, she a) wasn't allowed to write in any books and b) couldn't help by drawing pictures in my M208 handbook ;).
trying to convince my 4yo that annotating my #M208 handbook is not an activity she and her crayons can help with…. @oustudents

— Dr Janet Bastiman (@Yssybyl) June 1, 2016
Day 2 followed a similar format although I did the 2015 and Sample papers.  The sample paper was fantastic as it had a very thorough marking scheme so I wanted to save this until last.  My best score was an 83%, and I want an 85 or above.  That final evening was spent underlining parts of the method that I needed to remember to state to avoid losing some easy marks.
The exam seemed to go okay – I was writing right up to the end of the three hours and answered a part b question that I'd previously chosen to avoid… I have no idea why I picked it, although my favourite part B questions didn't come up.  I felt at the time it had gone quite well, and am cautiously optimistic.
The actual exam paper has just been released on the Student Home portal and I've reviewed it and as far I can remember my answers were okay.  Results are out no later than the end of the second week in July – all the best if like me you're waiting for them.
Right now, I'm not sure if I'll start MST210 in October.  Doing 90 points and working anywhere between 55 and 120 hours a week3, while trying to spend time with my loved ones has just been crazy, and the OU has obviously been at the bottom of my priority list.  I've just started a different role that will be a lot more brain intense and I just don't know whether I can commit to even the half-arsed approach I've taken to my studies this year.  I have until September 8th to make a decision, and a lot can change in three months!