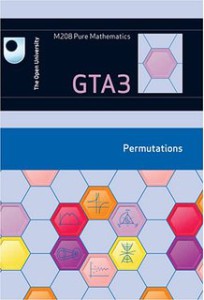 At the weekend I signed up for my next maths modules with the Open University.  I've got three distinctions in the level 1 modules and, aside from my severe annoyance with being forced to do a level 1 module I'm not interested in as "punishment" for skipping the easy start module1,  I was desperate to do the next module.  However, I dragged my heels this time.
If you've been following my posts you'll know that I've spent the past few months working for a start-up and this has taken a lot of my free time2 as we moved towards launch.  This was also the reason I barely revised for MS221, even though I got away with it.  So, despite being desperate to do more modules, I had to think carefully before making any commitment – would I have the time to devote properly to study as I wouldn't be happy with anything less than a distinction…  Also, like many people studying with the OU, in addition to a full time job, I have a family and want to spend time with them.  Specifically, I have a 3 year old who seems to have infinite energy3 meaning I have no  "me" time.  Wake, nursery run, commute, work, commute, dinner, time with my daughter, sleep.  My poor husband barely sees me and the majority of our conversations revolve around how we can convince our girl that bedtime is actually when Cbeebies ends transmission…  Catching up with anything that's been on TV is a guilty pleasure that involves setting an alarm for 5am4.  So why on earth would I commit to studying when there's so little time for anything else?
Level 2 maths also means a mandatory double module – twice the assignments, tutorials and study.  With level 1, I ignored the books, turned up to the tutorials for 3 hours once every 5 weeks, took a further 3 hours to do the related assignment and then a few days revision before the exam.  This is far far below the recommended study time that is set by the OU.  When I got my MS221 results, both my husband and parents said that I needed to take it more seriously else this lax approach would trip me up sooner or later5 and they're right – I can't go into level 2 thinking it will be easy and I need to give it more time else I'll end up disappointing myself6.
I'm now in my 5th week of commuting into London.  In the main, I generally get a seat.  Most of the time I read my kindle or catch up with work.   It occurred to me that I'm getting through 2-3 books a week and, while I love fiction, I could use that time for study if I was organised.  This would be easier if I was studying something that required reading texts, whereas maths requires a little bit more interaction, but it is possible.  I know I can be disciplined enough to do it, and this time I have to as there isn't the time to catch up in the evenings or weekends.
Most of all, I'm motivated to do it – I want to progress and get this degree because I love maths.    This, and my 3D printer project, are the things I do for "me", because I want to – not to support anyone else or for work or because I have to – and everyone needs those things.
There's still time to sign up for an October start if you want to try something new – take a look at the Open University site.  I can't recommend them enough.