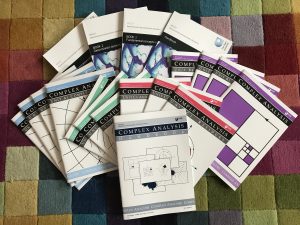 I gave myself a birthday present again this year, by registering for another 60 points worth of Open University maths modules. I'd put it off for quite a while as I couldn't decide which level three modules I wanted to do most and also in which order. The only fixed option was "The quantum word" which was only available once I'd completed1 60 points worth. This left me with a choice of 3 modules from 4 other interesting options. Sadly, I discovered (thanks to a comment) that the pure maths module I intended to do was a 60 point module, meaning I either had to lose that from my choice or two of the modules I was really wanting to do. In the end, pure mathematics lost out and I'm committed to four 30 point modules.
The first two of these will start in a few weeks and the books have arrived. While I've really enjoyed my summer break and reading a variety of books on my kindle while commuting, I'm also really looking forward to getting back to my #OUCommute and studying again.
For the next 9 months I'll be studying Complex numbers (M337) and Deterministic and stochastic dynamics (MS327). I haven't yet decided whether to alternate study weeks or do one in the morning and the other in the evening. I suspect that regardless of what I choose, I'll end up changing things around so I'll make a plan based on tutorials and TMAs and see what happens.  What is interesting is that complex numbers is still an old style module, like MS121, while Stochastic Dynamics appears to have been rewritten this year.  It's likely that they'll be very different in presentation of the material.  Time will tell.
It's also starting to sink in that I'm already four years through this part time degree and this time next year it'll be my final modules I'll be choosing.
If, like me, you're starting a new module (or modules) then best of luck for your studies.
Technically registered for rather than completing ↩