This week I was due to be sat in a large hall with about 200 other Open University students taking my exam for module M347, the last of the modules for the BSc in Mathematics I started for "fun"1. As with students in traditional universities, March 2020 gave a lot of uncertainty2. While some modules were switched to be coursework based assessment, mine was confirmed to be a remote exam with the originally planned exam paper. The paper would be accessible as a PDF on the day of the exam and then submitted in two parts: a multiple choice computer marked section and then a human marked second section. We would not be time limited (other than by the 24 hours in the day!) So how did I feel about this and how did it go?
If you've been following this blog over the past few years then you'll know how much work and general life have both got in the way of my study, so I've always gone into the revision period feeling unprepared and overcome this with as many past papers as I could get my hands on in the days before the exam. This has usually worked out well for me – the slight pressure of having to have all this information in my head has helped me focus. This time, despite being at home and with no work responsibilities other than looking for a new role, it would have seemed I had all the time in the world to prepare well. Sadly not.
Home schooling my daughter is still taking large amounts of the day, job interviews via video conferences were scheduled throughout, and I found myself struggling to focus because of the lack of pressure. I started playing World of Warcraft (Classic) again – the one thing that I'd stopped doing to start this whole degree! The weekend before the exam I spent creating a simple neural network in an esoteric programming language just because it was a fun thing to do. The lack of pressure completely removed motivation until a few days before. Then my natural instincts kicked in.
I did 3 past papers and the specimen paper for the course, and marked using the model answers I had. I hid myself away in my study with headphones to drown out the constant construction noise coming from our neighbours, which has been low grade torture from 8am until 2pm 7 days a week3. One of my cats objected to this situation and started hurling herself at the door and making the wailing noise that only cats can make until I let her in. She then proceeded to sit on my work and wash herself.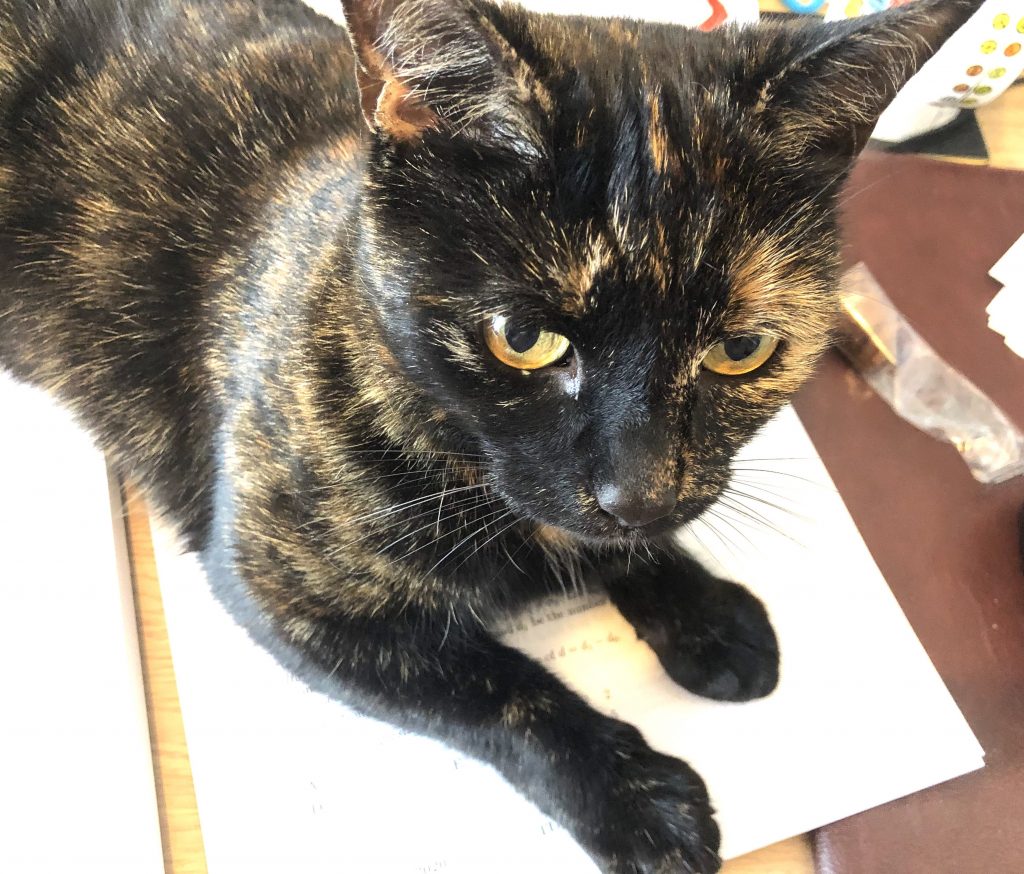 The night before the exam I had a plan: I knew the paper would be available at midnight so I thought I would get it as it was released and print it. Have a gentle read through to make sure it was all there and it followed the same format as previous exams, get some sleep, then start it with a fresh head about 9am the next day get it done quickly and submit before the inevitable end of the day rush4. It's good to have a plan, but it's also good to accept that plans hardly ever turn out 🙂
At midnight, the paper appears and I printed it. All good. I checked that I could access the computer marked section. Then my daughter was awake and was too hot to go back to sleep, so spent some time settling her. Had a quick read of the paper, all good. Tried to go to sleep. My daughter would not settle and kept asking for drinks/biscuits. It was 1.40am by the time I got to sleep, having already pushed back my alarm to 9am for a 10am start.
5.30am I was wide awake. I don't think anything had woken me up particularly. I was still tired, but could not get back to sleep and had that awful decision of getting up knowing I'd be tired, or spending the time to try and get back to sleep knowing that I'd sleep in a lot later than I'd like. I decided to get up.
Tea in hand, cats fed and let out, I went into my study and made a start. Immediately it felt weird doing an exam in my pyjamas and dressing gown, it also felt like I was doing revision rather than an actual exam. I took the first few questions slowly and was glad I did. I was getting answers that didn't seem right, and on checking discovered some wayward minus signs. I decided to stop for a bit.
Another tea and some breakfast later, I could feel my brain-fog clearing and went back to it, immediately spotting further mistakes. As I've mentioned before, doing maths while sleeping is not a sensible idea!
Then I started treating it like a normal exam…. except when I didn't. Getting up to make a fresh cup of tea or coffee and pausing to eat proper food rather than "exam table snacks" was great. As was being able to listen to music, get up and stretch my legs, and transition my desk to its standing position. What was less good was the constant construction noises from next door, my cats meowing to be let in and then eating the exam paper or just sitting on it, my daughter asking for snacks, and all the other little interruptions you just don't get in an exam hall. Taking out all the pauses and distractions (including the formatting of the handwritten part for submission which I did in OneNote just like the normal TMAs), I think I did it in the normal allotted 3 hours. I'm not sure whether I prefer the traditional experience or being able to do exams remotely – all the benefits of being at home seem equally matched by the negatives!
I do know that my heart goes out to anyone taking any exam from home where they don't have a dedicated space where they can shut the door and focus.
Results are out late July and then I'll need to think about what is next… More maths or a different subject entirely?