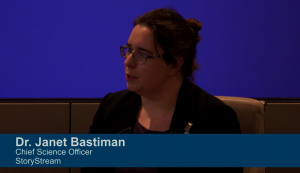 Following on from the meetup talk I gave on building your own personal brand, I've been asked a few questions about speaking at events and being a panellist.  I felt it would be a good idea to write a few posts on this for reference.  This one is particularly about panel sessions.
This year, I've done a few panel sessions, although not all have been recorded. Earlier this year I was at a satellite event for the Women in Data Science conference and most recently I was the at State of AI event at the London Stock Exchange discussing AI Technology. Although I was invited to attend both of these sessions, the most common way to be a panellist is if your company has sponsored the event.  Quite often "a place on a panel" is a perk of sponsorship, so make sure that the marketing department of your company1 know that you're interested in doing this.  You'll only be asked to speak on panels that are relevant to your field of interest, and they are generally quite broad, to match the audience.   Regardless of whether you are invited or are given a spot, the actual panel itself will be much the same and you'll know the theme of the panel at the point of invite.
Preparation
There will be a preparation call or meeting beforehand, almost always this will be with whoever is moderating the panel.  They will want to know a little bit more about you so that they can introduce you effectively and understand your areas of interest and expertise.  They will talk through the questions with you.  This might be in detail or as partial areas depending on whether they are still finalising the questions.  You may have the opportunity to suggest some topics yourself so it's worth thinking about the panel theme and anything you think you would like to say.  This preparation call is so that the organisers can balance the session – find questions that might have different viewpoints and also ensure that each panellist has the opportunity to speak.
What to ask
If the organiser hasn't already given you the information you may want to ask the following:
Who else is on the panel?  These could be interesting future connections, competitors or even future colleagues.  Find out about them and where you and your company compliment or compete with them.
How many people are expected/How big is the room?  You don't want to be surprised by a very large room with hundreds of people and similarly smaller audiences can have a more engaging atmosphere.
What sort of audience is it?  The assumption should always be mixed, i.e. a range of both abilities and understanding in your field of interest.  However if you know that everyone will be new to the topic or all experts then you'll want to adjust the level of your answers.
Will there be microphones?  Even in smaller rooms, if there's no microphone you may want to practise raising your voice to be heard.  I was taught (in GCSE Drama) to assume I was talking to the person at the back of the room and adjust my voice accordingly.  Sounds obvious but I've seen presentations and panels bomb because the person couldn't be heard. Similarly, you'll want to ensure that you wear something that's easy to mic up and don't wear a chunky/jingly necklace that will ruin the sound.
Is it being videoed/photographed?  Can I have copies?  Generally these events want the PR so they'll be hoping that media will be spread around after the event.  Your company will probably want this as well.
Is there a hashtag to promote the panel/event?  Again, in the run up to the event they'll want people to talk about it and may have already thought about this.
Will there be any press? The answer will usually be yes, and mostly freelance for tech events, this is mainly so you can keep some sort of look out for them and be aware if an audience member starts asking those more interesting questions…
On the day
Find your host and fellow panellists and introduce yourself.  Ask about their companies and what they do there, even if you've already looked them up on LinkedIn.  If you need a microphone, then before your panel you'll get this on and do a sound check.  Ask if there are any changes to the panel or timings.  People sometimes have to drop out and there may be last minute changes to swap sessions to accommodate travel problems.  Make sure you have some water to go into the session.
You may be introduced or be asked to introduce yourself.  Keep this short: your name, job title and company and what you do.  The "what you do" should be no more than a few sentences to establish your credibility e.g.
Hi, I'm Dr Janet Bastiman and I'm Chief Science Officer at StoryStream.  I lead the AI strategy and my team and I are building innovative and disruptive AI solutions for marketing.
The panel host will take turns asking you questions.  Don't be afraid to pitch in if you have something to add to another panellist's answer, even if the host doesn't directly ask you.
The final part of the panel may be thrown open to Q&A.  Since these are completely unscreened they be contentious or otherwise tricky to answer.  They may be directed at the panel as a whole or you individually so be prepared for these.  Common topics for Q&A include recent news items as well as items the audience member finds interesting that may not have been covered.  Make sure you're up to speed on what has been announced in your field.  If you can answer then don't be afraid to express your opinion.  I quite enjoy fielding the tricky questions nobody else wants to answer :).
The best form of preparation you can do is go to a lot of panel sessions and watch (the full recording of my AI technology panel is here). Ask a few questions yourself.  Get comfortable with it.  Meetup groups are a great way of getting practise in a safe environment.   Above all, don't be afraid to take part – there are people out there who are interested in your thoughts!
From this point on, assume I also mean university when I say company! ↩