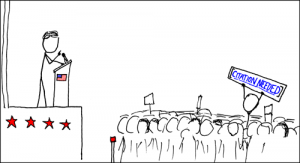 Throughout my academic career one thing that was repeatedly enforced was that if you were claiming something to be true in a paper, you needed to show results to prove it or cite a credible source that had those results.  It took a lot of effort in those pre-Google Scholar and pre-Arxiv days1.  Reading the journals, being aware of retractions and clarifications and building the evidence to support your own work took time2.  Writing up my thesis was painful solely because of finding the right references for things that were "known".  I had several excellent reviewers who sent me back copies of my thesis with "citation needed" where I'd stated things as facts without a reference.  My tutor at Oxford was very clear on this: without a citation, it's your opinion not a fact.
We have a lot of information available to us, much of it masquerading as fact that is merely opinion.  Wikipedia has done wonders for making the non-scientific community aware of citations.  I challenge you to question anything that doesn't have a reference back to its origin, . particularly from sources you think are credible.  Consider this tweet from the QI Elves, who many in the UK consider to be an authority on obscure facts with a reputation for credible research before claiming anything:
Facebook AI devices starting talking to each other in a new language that no human could understand. The devices were promptly turned off.

— The QI Elves (@qikipedia) August 8, 2017
You may have heard of this story3. There was an initial flurry of misinterpretation after the blog post from Facebook was published, followed by further clarification that it wasn't true. Like all clarifications, far less attention was given to that than the original clickbait story.  Interestingly, I'm yet to see a scaremongering article on this AI "that had to be shut down" that links the original blog post, they've all referenced "a blog post" making it seem credible in the hopes nobody will actually look for it.  I think this is very lazy journalism, with nobody fact checking the original source.
For reference – this was an experiment in teach AI to negotiate and, when the team pointed two copies of the AI at each other rather than talking to humans, they developed a more efficient language for their communication.  Hardly killer robots 😉  I have yet to find anywhere that says it was deliberately shut down, only that they did an experiment that finished.  Interestingly, I've been unable to find the examples of the new language in the blog post or the academic paper or even any other blog posts on the research site.  The examples of the new language appear to be from a initial article on fastcodesign.com (also unreferenced by the majority of writers of the copycat and misleading articles4), which does reference the original post and also appears to have a direct interview with one of the researchers and a screen shot showing the "new language" (the same text is used in the copycat posts but has been cleaned up a little).  The focus of the article was not "this is scary and we need to turn it off" but that "when incentivised to be efficient, a new language would develop that humans cannot follow and is this a good thing?".  In the clickbait economy misleading scary articles are the modus operandii of most sites on the web, rather than information.  I wish this wasn't the case.
I implore you – if you see an article claiming something happened and they don't link you back to the original source (or at least an official summary) then please ask them to cite it.
Otherwise, they might just have made it up.5