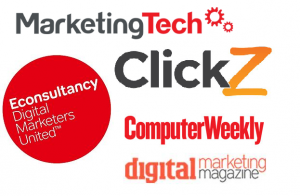 Towards the end of 2016, I didn't post as much content as I usually like to on here.  While there are all the usual excuses of free time, the main reason was that a lot of the ideas I had were being written for other websites.  So here's a collection of my posts from the last few months of last year that didn't make it on here.
At the end of the summer, I reworked my facebook image creation post to focus on stock photography creation and the effect this would have on the marketing community.  This gathered a fair amount of attention and I was asked to write pieces for several other sites as a result.  At the start of October I was invited to rework my Can Machines Think post from 2015 for Clickz to update for 2016 and adapt for a marketing audience.
After attending the ReWork Deep Learning conference in London, I wrote a piece for Marketing Tech News about the data and legal debate with AI and what their readership ought to know.  I'm still fascinated by the lack of definition of the legal status of the decisions made by AI and am hoping that we can get this resolved before it becomes an issue.
Also in October, following a piece in Computer Weekly about an open source system providing "real-time" personalisation, I felt obliged to add a slightly tangential viewpoint on real time personalisation, which was posted by Adrian Bridgewater as part of his technical blog series.
In November, I read an article by Wong and Slater indicating that machine learning was "about to" turn marketing on its head.  Always amused when I see articles indicating things are about to do something, I wrote a response piece for Digital Marketing as, in my view, this has already happened and if your marketing partner isn't using it then it's time to change.
Following Metro Bank's decision to add a non-binary gender option to its system to accommodate a teenager who didn't identify as either male or female, I wrote another piece for Clickz on inclusive marketing and the impact that this decision would have on data storage going forward.  I ended that article with one of my favourite lines1.
It's always a pleasure to write for other websites.  Please get in touch if you'd like me to contribute.
  Which I'll let you read for yourself 🙂 ↩