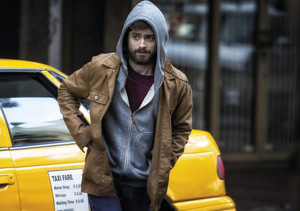 After yesterday's Girls can code the BBC kicked it up a notch with the Gamechangers – a TV movie about Rockstar Games and the controversy around GTA San Andreas.  At the start, it was made clear that Rockstar weren't involved and that it had been pieced together from court reports and third party interviews.  If you missed it then it's available on iPlayer for the next month.
It had a good cast, headed up with Daniel Radcliffe (with an amazing beard to take him as far from Harry Potter as is possible) and Bill Paxton, and some of the special effects were great for a TV movie.  I particularly loved the time lapse montages of the code developing – one of the best visualisations of being focussed and immersed in the act of coding I've seen in a while.
However, I couldn't get behind any of the characters – they seemed one dimensional, and I found myself unable to relate to any of them.  This is almost certainly a result of the program lacking involvement from any of the real individuals.
Twitter had a lot of engagement but mixed reactions… and Rockstar certainly didn't seem impressed:
@BBC Was Basil Brush busy? What exactly is this random, made up bollocks?

— Rockstar Games (@RockstarGames) September 15, 2015
But this is hardly a surprise given their lawsuit from earlier in the year.
Just like The Social Network – this is a piece of drama, inspired by real life events, and should be taken as such rather than the "true story".  A lot of what went on will be hidden behind non disclosures and professional conduct of the people involved.  Don't take it as fact.
What it should do is feed the conversation about whether video games cause (or make people more susceptible to cause) violence.  Tomorrow there is a Horizon special on this precise subject, giving us all 24 hours to think about how we feel on the subject before (hopefully) some scientific rigour is applied to the debate.
Finally, I couldn't help but smile as over the end credits there was a shout out to the OU and their free information pack  to support the Make it Digital season – well worth getting if you've watched and been inspired by any of the programs in this season.