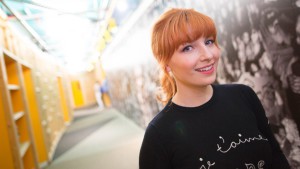 As part of the BBC's Make it Digital season, there was a great program on BBC3 showcasing that "Girls Can Code".  Such a shame it was on a minor channel at 9pm rather than BBC1 or BBC2 earlier.  However, BBC3 is aimed at the youth market so I'm hoping that enough young women watched it to be inspired.
If you missed it, it's available on iPlayer (UK only) for the next month, with the second episode next Monday.
This isn't the apprentice – they don't need to crush each other to get ahead – Alice Levine
It was refreshing to see a reality TV show where the team seemed to bond and work well together supporting each others ideas rather than playing political games.  It was also great to show that tech wasn't just about writing lines of code – there's far more to it.  The ideas are key, and it isn't just about apps and websites anymore – technology can be embedded in clothing or household objects.
One of the great parts of the program was seeing real people who didn't follow the "traditional" path – people without degrees or technology backgrounds.  People like the ever-inspiring Sue Black, whose tenacity and passion took her from a single parent who'd left school at 16 to one of the top people in tech in the UK.  If you don't know her story, you can read it all on her own blog post.  She made a fantastic comment in the episode:
Follow your passion and look for opportunities – Prof Sue Black
Whether you're interested in writing lines of code specifically, or building a business, you can't go far wrong with that.
There were some interesting comments on Twitter that there wasn't enough code shown and I think they missed the point.  The five girls where sent to a learn to code day and this was summarised (as watching people type is hardly great viewing!) with the girls' feelings after the day1.  For me, the program was attempting (and succeeding) to show that you shouldn't be afraid of tech and then anyone could be involved.  It wasn't aimed at those of us already in technology2.
I loved the outlook for this – it was exactly the encouraging, positive approach that young people, particularly young girls, need to have a go at tech.  It has never been easier to create – computers are cheap, the development environments all have free versions, and there are plenty of free guides to do practically everything online… all that's needed is the idea.  I'm really looking froward to episode 2 next week to see how the girls get on.