So, today I decided to make a start on the 3D printer project.  I've got 15 parts now, enough to get started and also to get to a point where I can have something that moves I hope (I have a plug and circuit board in these issues).  The first 12 issues cover "stage 1" and that's what I hoped to be covering in this first guide.
I had the mantra "read everything carefully before starting" ingrained as a child so I have a Pavlovian response when opening a  kit to read the instructions. In this case the instructions are spread across several magazines and the logical thing to do was to put them all in the binder first.  The binder takes 15 issues and looks like this: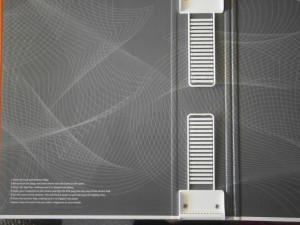 This instructions say:
Open the top and bottom flaps
Remove all pegs and insert into the holes in the spine
Close the top flap clipping into place
Open the magazine in the centre and slip the first peg into the top of the  centre fold
Do the same at the bottom, pulling the peg out slightly first
Close the bottom flap, clipping into place.