At the end of my last post in this series, we had attached the z-axis screw rod and made a start on the heater plate.  This post focuses on the build plate, covering issues 36 – 39 of 3D Create and Print by Eaglemoss Technology.  If you've skipped a part of this series you can start from the beginning, including details of the Vector 3 printer I'm building on my 3D printer page.
This set of issues also needs the heater sensor part from issue 35.  Unpacking this set of four gives two study plates that will form the build base and lots of interesting looking wires.
EDIT: if you do not have the protection coil or strengthening strip and have a metal clip instead of a plastic one, do not worry.  Eaglemoss upgraded these parts and delivered these for me with issue 70.  If you are a few months behind then you may already have the better parts.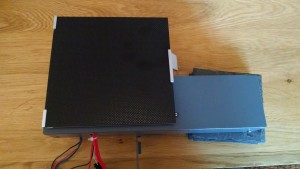 So, we've now got a y-axis  with heater, sensor and our build plate all attached, which is still separate from our main frame with the x-axis and z-axis.  We're also still waiting for a new binder.  Issue 40 comes with a z-axis bracket, but there's not much of a clue as to where the next few issues will take us.