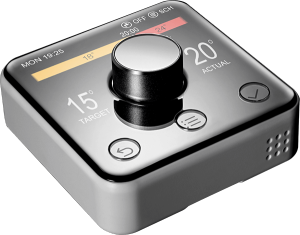 I grew up reading and watching Sci-Fi. As a child with an Acorn Electron, the idea of smart interactable devices seemed far future rather than near future. I loved the voice interactivity and things 'just working' without needing to be controlled. When I got my Echo dot last year, I knew this would be the start of a journey to upgrade my house to a SmartHome and truly be part of the Internet of Things. It's been four months now and I've got a setup with which I'm pretty happy.  Here's what I chose and why…
After getting the Echo Dot last year, I soon realised that to get the most out of it we'd need to get more connected devices that could be controlled.  Lights and heating were an obvious starting point.  I had a look at Nest as I know other people who have this and swear by it.  While the solution is very clever and there are lots more devices that seamlessly connect, what actually put me off was the learning thermostat.  We'd just got two eight week old kittens and needed to keep the temperature constant at 18°C throughout the day and night.  Having something that cut the heating wasn't going to work, and if the temperature was a constant, then a learning device wasn't worthwhile.  Looking into other options I settled on hive by British gas.  This had the benefits of integrating easily with the Echo and also was pretty simple to fit yourself12.
The hive system requires a central hub that connects through the internet to the hive cloud api.  This is a pretty simple plug and play once you have  hive account set up3.  For the heating, there's a receiver module that goes in the place of your normal hot water/heating controller and has manual control should it be needed.  There's also a wireless thermostat that goes on a convenient wall.  Due to the layout of my house, I chose a single zone solution4.  With my old thermostat set to maximum and effectively redundant, the new hive thermostat took over the heating.  The hive app allows timer control of hot water and heating, boost and setting to a fixed temperature.  After connecting hive to the Echo, you can set temperature or boost the heating or hot water with voice commands.  This has been working well since it was installed, no complaints.
Since we'd got the hive system, it made sense to try the rest of the hive range.  The first step was lights.  These are significantly more expensive than normal energy saving bulbs and time will tell whether they last for 10+ years.  We chose standard dimmer bulbs for most places, with the full white lights for the study and kitchen, where I wanted a whiter light.  You can have a lot of fun with the full colour lights, but they are double the price and in my opinion just not worth it. The bulbs just replace your normal bulbs and the hive hub automatically recognises them.  You can rename the devices through the app so I'd advise adding them one at a time to avoid losing track.  Once recognised, you can turn them on or off, set the dim level (and amount of whiteness for the full white bulbs), even out of the house, using the app.  With the hive skill on the echo, these are also controllable by voice using the names you give them.  You can do a manual override  by turning the lights off and then on at the wall switch should you need to.  Over Christmas we added a smart plug to allow the lights on the tree to be turned on or off .
The main frustration about this was that I have four lights in my living room, turning them off one at a time either by voice or in the app just wasn't working.  However, Alexa came to the rescue.  Through Alexa, anything defined as a smart device can be grouped.  This abstraction layer is really useful as devices from multiple providers can be grouped.   Setting a group of the four lights5 made it more practical to turn the lights on and off through the echo.  Adding the smart plug meant that the whole room could be turned off with a simple command.
After the plug, I got a little crazy with adding sensors. I decided against a sensor activated light for the hall and landing as the last thing I need when trying to get my daughter back to sleep in the middle of the night is a bright light activating automatically6.  The sensor in the kitchen seemed sensible – if someone is moving around then keep the light on for 10 mins from the last movement.  However, I failed to consider that the kittens would constantly activate it, even after trying to find places where a human would set it off but not a cat.  I also failed to consider that my daughter eating her dinner very slowly would also be plunged into darkness if she was being good and sitting still ;).  This was solved with a simple override if it needed to stay on and by disabling completely overnight.  Again. not ideal and may just need more experimentation with positioning of the sensor.
Then there was the door sensor.  Having this send an email when the door was opened was a great idea to start with.  However, when you're at home and going backwards and forwards to the car, or tidying the garden etc, getting spammed with emails wasn't great.  What we needed was something that recognised when we weren't home and only notified us if neither myself nor my husband were home.  Hive didn't do this.
Samsung's SmartThings does have different capabilities.  I'd ignored it when I was looking at the heating as it didn't have this capability, but with a SmartThings hub and app I could add our mobile phones as devices that could be sensed.  So I now have two hubs.  The hive hardware can be controlled through the SmartThings app, but you can't administer hive through it.  However, with a SmartThings login for both of us and the app on each phone, it could be set up using ITTT to contact us only if neither of our phones were present.  The SmartThings app also allows creations of rooms, but these aren't recognised by Echo.  I'd like to get some more SmartThings devices to see if there's any benefit over Hive.
After Christmas, I moved the tree plug into the kitchen so I could disable the toaster and coffee machine overnight (as these were the two things that the kittens could easily activate and hurt themselves) and renamed it through the app.  I also took advantage of the sales to get an internet of things enabled TV.  I got the Sony Bravia 4K LCD.  After some extensive research, this had the best upscaling.  I have a lot of DVD quality films and SD channels I watch so this was important7.  Connected up to the internet and added to Alexa, the TV became part of my living room group.  Echo can now turn the TV on or off, and with the video and TV app from Sony, I can use my phone as a remote and set recordings remotely8.
After living with the Echo Dot for a few months it soon became apparent that we needed more than one.  Having voice control in the living room was great, but being able to turn everything off with voice commands at night and then having to walk through the darkness to get upstairs  wasn't great.  So I got the full sized Echo, and this became the main device for the living room, while the Dot was relegated to my study upstairs9.  The difference in sound quality between the full sized echo and the dot is considerable, and it makes listening to music a far better experience.  If this isn't important to you then I'd still recommend saving your money and getting the dot instead.  Both Echoes still have the oddity of randomly responding when no question has been asked, or acknowledging an action without performing it, but these are niggles I can live with while the technology improves.  Other people may not like this as much, but the majority of people I've spoken to about this, seem amused by these random responses and love checking the app to see what set off their "strange pet".  Probably not something you'd want controlling your life support machine just yet, but for most household things it's just fine!
My biggest issue at the moment is that the internet of things is a little disjoint.  While the APIs are open, each app or website has been developed primarily for the company's own devices and features and then made compatible with others.  This means that I have to have three different apps to control the relatively small number of devices in my house.  While I could write another one, this does have a feel of other compatibility problems.  I also think that as the Internet of Things matures, it will naturally evolve into applications that can do everything that we need.
One final point on security.
The S in the IoT stands for Security.

— Oleg Šelajev (@shelajev) November 10, 2016
If you're using services that go outside of your network then you are accepting their security.  Make sure you're happy with it.  Make sure your own network is secure and all your accesses are secure.  This is a rapidly evolving area of technology.  Companies are releasing "Things" quickly and security has some catching up to do.
Now that Amazon have allowed Alexa to respond to "Computer", you can have a lot of fun with your internet of things connected home.  I love living in the future!