Today I finally started unwrapping the pieces of my 3D printer.  After the issues with getting the magazines into their binding, I have been putting this off until I had the time and space to work through it properly.  I have 15 pieces to work through and this includes several circuit boards and a plug.  This entry covers the first 6 issues of 3D Create and Print by Eaglemoss Publications where we create the y-axis assembly up to the point of being ready for the motor and power.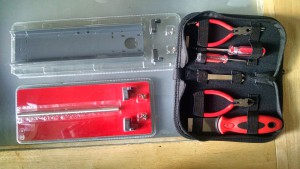 The last set of pieces also came with a handy tool kit with everything I need to build and maintain the printer – another reason that I hadn't done this earlier – no matter how many screwdrivers or allen keys I've bought over the years, I can never find any when I need them.  The one thing the tool kit is missing is a sharp pair of scissors to break open the plastic packaging of the printer pieces, but you can't have everything!
This completes the y-axis assembly with the exception of the motor, circuitry and power adapter, which I'll cover in the next post.